The joy of romance, the twists and turns of fate, and laughter at the most unexpected of times are all found in this really fun story by Ms. Hormel. The Convenient Cowboy is the kind of novel to read when you are looking for a plot with heart and characters that can make you smile. I certainly found myself laughing out loud during many parts of this book.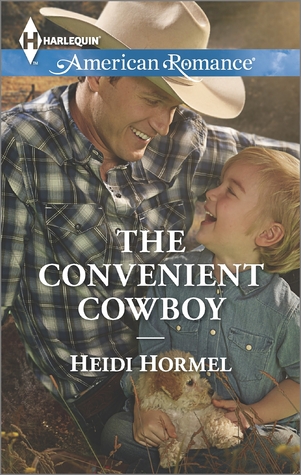 First, this is a character driven romance told from both Spence and Olympia's point of view. I liked having both their sides revealed because a reader gets a better understanding of how challenging this romance is going to be. Spence wants his son full time and has come up with the perfect plan to get custody; Olympia needs to provide for her younger sister's education, so both Spence and Olympia join forces in an arranged marriage to achieve their goals. There's just one problem, the condom broke. And, true to life, the best-laid plans of mice and men oft go awry, so too with the main characters. I adored how Ms. Hormel shared with me her characters' dreams, hopes and fears and how they came about realizing that everything they truly wanted in life was right in front of them. It's the getting there that makes this book worth reading. It's classic romance.
I don't know if other readers will feel like I did in the first few chapters so I'll share it just in case. At first, the conflict of Olympia's internal struggles seem large enough to overshadow the book and I was so afraid that they were going to poison the romance and turn it into a whiny cliché. Let me assure readers that it gets so much better. Once Ms. Hormel gets the setup out of the way, and the players in place, the pace, interest, and entertainment picks up and never stops. The romance between two stubborn people with assumptions and expectations is not without its emotional drama, but once Spence's young son comes on stage, a reader will get to enjoy a bit of madcap hilarity, like the scene with Petunia. I belly laughed at that part. The reason why I got the biggest kick out of that and other sections of the book, like when Spence kept getting bit by the horse, was because of the power of the words the author used to paint the action for me. It was effective, well done and the results are pure entertainment. It was apparent that this author knows how to craft laughter in literature.
The Convenient Cowboy is engaging, endearing and is simply a fun romance. When I find stories like this, it reminds me of the reason why I read romances in the first place. When people think happiness isn't in the cards for them and they find it accidentally, it's extra special and it reinforces that dreams really can come true; fact can mimic fiction. This was a great read and I easily recommend it.




Editor's note:
This article was originally published at Long and Short Reviews. It has been republished with permission. Like what you read? Subscribe to the
SFRB's free daily email notice so you can be up-to-date on our latest articles. Scroll up this page to the sign-up field on your right.