What if you meet your true love at the wrong time in his life? What if fate gives you both a second chance?
I fell in love with these two from the first couple of chapters. Their story is sweet and yet life has a way of complicating things. This story could have gone a whole different direction if the tragedy hadn't occurred. But it does and it felt real.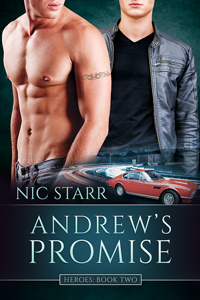 I was a little concerned about witnessing the tragedy that the blurb alludes to. The author gives the readers a chance to get to know all the parties involved and it really made it that much more personal when it happened. Still, I could see why she did it that way. I needed to see how carefree Andrew, his brother Josh, and Tanner were before to appreciate how they changed in the ten years in between. Also, it was nice to see Andrew and Tanner as friends, only just becoming aware of each other before they reunite. That conversation and the scenes before Tanner leaves on the trip, though. Tissue alert!
I felt for Andrew. Sure he was already twenty-one when he becomes responsible for his kid brother but the amount stress and the mounting "what if's?" are enough to break just about anyone. I know he hurt Tanner initially and I was hoping that their reunion would be one where Tanner came to understand and forgive him. Tanner grows up a lot when he hits the road. I liked the direction he took his life and how it molded him from a young adult to a man.
The first half of the story is from Andrew's POV but it's not a first person POV. I was glad. The second half picked up from Tanner's POV before switching back to Andrew. It's very defined and wasn't an issue in knowing who was speaking. No head hopping involved. The story runs a little long in some places or maybe I was just so anxious to get them to their HEA that parts simply felt unnecessary. It's one of those stories I'd read again to be sure I didn't miss important stuff.
The way Ms. Starr describes Tanner's nervousness about seeing Andrew after ten years, it was so detailed, I was nervous right along with him. I don't want to give away too much but I'll say it wasn't the homecoming Tanner expected but that doesn't mean it was bad, either.
There's a lovely little tease at the end of this story that totally has me hooked and wanting to see what happens in the next book. Surely, there'll be a next book. There actually is a book prior to this one, Charlie's Hero, but I didn't realize it until little details about Josh and Charlie started fitting together.
Readers who want a whole heart true romance should pick up this book. Andrew and Tanner both are full of personality and once they're both off the leash to love each other, it's just beautiful to watch. Well worth the read and an easy recommend.




Editor's note:
This article was originally published at Long and Short Reviews. It has been republished with permission. Like what you read? Subscribe to the
SFRB's free daily email notice so you can be up-to-date on our latest articles. Scroll up this page to the sign-up field on your right.